Brucite fiber (Mg(OH)) is a kind of fibrous fibrillite which is rare at home and abroad. It has the characteristics of white color, easy splitting and high cashmere rate. Its unique and excellent performance and low price. It has become the natural substitute for asbestos today. As reinforcing, reinforcing materials and additives, it is mainly used in non-asbestos cement, rubber, brake, friction, sealing, thermal insulation, coatings, textiles, adsorbents, flame retardants and other products.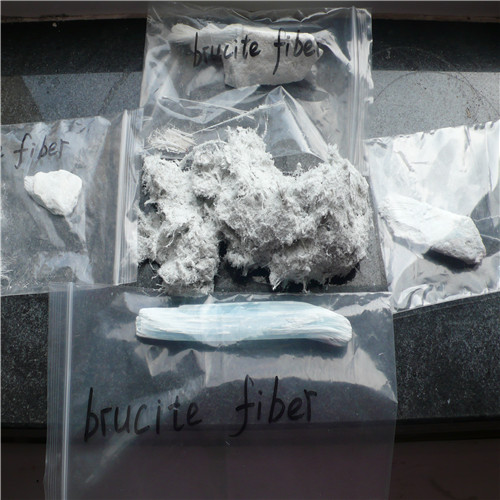 To explain to you the application of fiber brucite in building insulation materials, the following specific understanding:
Brucite fiber
Brucite fiber [Mg(OH)₂] is a rare fibrous hydroxyapatite with high color, easy to split and high grade.
Brucite fiber, can be used at home and abroad to produce non-asbestos cement, rubber, brake, friction, sealing, thermal insulation, coatings, textiles, adsorbents, flame retardants and other finished products.
Chemical formula and chemical composition of brucite fiber
1. The chemical formula of brucite fiber is:
Mg(OH)₂, the theoretical chemical composition is: MgO: 69.11%, H₂O: 30.89%
2. The chemical composition of brucite fiber
Chemical ampesitin SiO₂ MgO Al2O3 Fe₂O₃ FeO CaO H₂O- H₂O+
Content (%)
Content(%) 1-3 61-65 0.27 0.6-1.9 2-6 0.14 0.08 28.02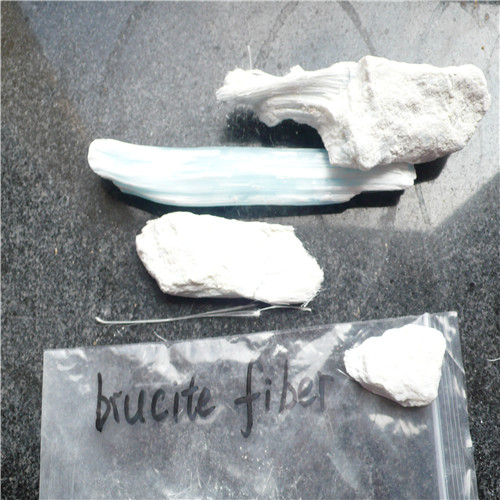 Physical and chemical properties of brucite fibers
Physical property
Fiber type: vertical fiber
Specific gravity: 2.44
Tensile strength: 892.44-1283.7Mpa, moderate tensile strength
Heat resistance: dehydration temperature is 400-500 ° C, melting point 1960 ℃ A thermal conductivity: 0.131-0.213 W / m.k
Resistivity: Pv = 5.9 × 106 (Ω.cm)
Ps=3.6-4.5×106 (Ω.cm)
2. Chemical properties
Loss of base: 2.03%
Acid loss: 84.4%
In addition, brucite fibers have weird functions and low prices. Moreover, brucite fiber can be used as a reinforcing, reinforcing material and additive, providing a variety of good opportunities for various enterprises.
Brucite fiber can also be used in the construction industry
1. It is used for the hollow partition wall strip. It has been determined that the bending and crushing load is greater than 1.2 times its own weight; the impact resistance is excellent, the weight is 30kg, 50cm, 3 times impact, no through crack. Functional indicators meet national industry standards.
2. For the production of plates, cement tiles, etc.
3. It is used as a reinforcing material for microporous calcium silicate board, which has been promoted and applied. After the application of various building materials products, the price of fiber brucite is slightly lower than that of asbestos. Taking the production of lightweight partition board as an example, fiber brucite is used instead of alkali-resistant chopped glass fiber, and the cost per square meter of raw materials is reduced. Yuan, a production line with an annual output of 200,000 m2, can increase the annual benefit by 200,000 yuan. In addition, since the fibrous brucite is extremely resistant to alkali, ordinary Portland cement can be used instead of the low alkali quick-hard cement, and the cost can be further reduced.
Fengcheng City Heqi Brucite Mining Co., Ltd., is an imports and exports mining company registered in 1998 in Fengcheng City of Liaoning Province. the company is located in Fengcheng City, Primarily engaged in processing minerals. The company property mainly manufactures magnesium hydroxide flame retardant and brucite powder. The export work is handling by DALIAN HEXIN NEW MATERIAL TECHNOLOGY CO., LTD.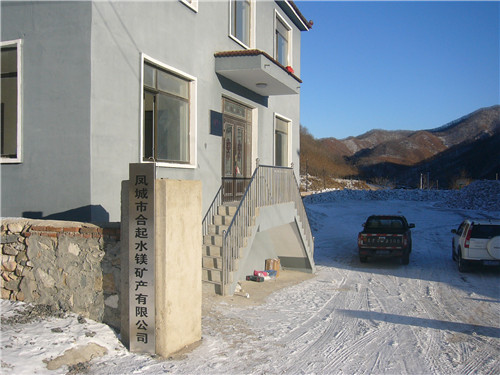 Our annual output amount is up to 100,000 tons. Quality,Integrity, Innovation are our business ideas. Relying on quality products, good services, our company possess good reputation in the line.
"Business Integrity, Standardize Services, Sustainable development, Dedicated to Community" is the company's Principles. During several years developing, the company possesses own mines and processing plants,It consists of the heqi brucite mine in Fengcheng city (reserves 3,000,000 tons, annual output is 100,000 tons).