Magnesium hydroxide, white amorphous powder. The name is caustic soda, light burned magnesia, etc., the suspension of magnesium hydroxide in water is called magnesium hydroxide emulsion, referred to as magnesium milk, the English name is Magnesium hydroxide. Magnesium hydroxide is a colorless hexagonal column crystal or white powder, hardly soluble in water and alcohol, soluble in dilute acid and ammonium salt solution, and the aqueous solution is weakly alkaline. The solubility in water is small, but the water soluble fraction is completely ionized. The concentration of the saturated aqueous solution was 1.9 mg/liter (18 ° C). Heating to 350 ° C loses water to form magnesium oxide. Natural mineral brucite of magnesium hydroxide. Can be used in sugar and magnesium oxide. Because magnesium hydroxide is abundant in nature and its chemical properties are similar to aluminum, users have begun to replace aluminum chloride with aluminum hydroxide for fragrance products. Used as an analytical reagent and also used in the pharmaceutical industry.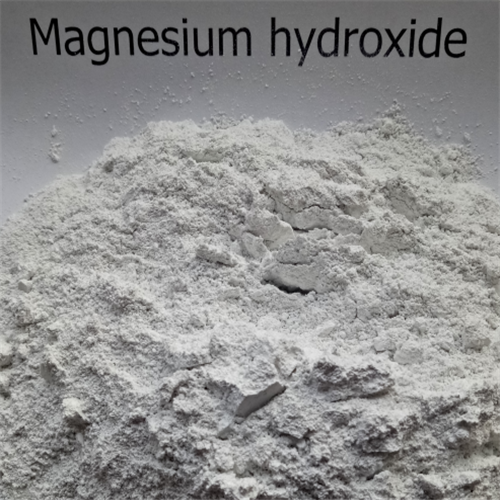 Compound introduction
Noun information
Chinese name: Magnesium hydroxide
Chinese alias: caustic soda, light burnt magnesia
English name: magnesium dihydroxide
English alias: Magnesium Hydroxide; Magnesium hydroxide; magnesium, dihydroxide;
CAS No.: 1309-42-8
Molecular formula: Mg(OH)₂
Molecular weight: 58.31970
Exact quality: 57.99050
PSA: 40.46000
Physicochemical properties
Appearance and traits: odorless white powder
Density: 2.36g/cm3
Melting point: 350℃
(Decomposes)

Boiling point: 100℃ at 760mmHg
Flash point: will not burn
Stability: Stable.
Storage conditions: Store in a cool, dry, well-ventilated area away from incompatible substances. Keep containers tightly closed.
Security Information
Hazard Category Code: R36/37/38
Safety instructions: S26; S36; S37/39
RTECS number: OM3570000
Dangerous goods sign: Xi
Chemical properties
Magnesium hydroxide is a medium-strong base (magnesium hydroxide has a low solubility, the solution is very alkaline, sometimes treated as a weak base), and heated to 623K (350 ° C), ie dehydration decomposition: Mg(OH) ₂ →MgO+H₂O, easy Soluble in acid or ammonium salt solution. Like carbon oxide, it absorbs carbon dioxide in the air and gradually forms a basic carbonate having a composition of 5MgO·4CO₂·xH₂O. Decomposes to magnesium oxide and water at temperatures above 350 ° C, but only dehydrates completely above 1800 ° C
Flame retardant mechanism of magnesium hydroxide flame retardant
Magnesium hydroxide decomposes when heated (340-490 degrees) to absorb heat from the surface of the combustion product to flame retardant; at the same time, it releases a large amount of water to dilute the oxygen on the surface of the fuel, and the activated magnesium oxide decomposed to adhere to the surface of the combustible material further prevents The burning is going on. Magnesium hydroxide not only does not produce any harmful substances in the whole flame retardant process, but also its decomposed products can absorb a large amount of harmful gases and fumes generated by the combustion of polymers such as rubber and plastics, and the active magnesium oxide is continuously absorbed. The incompletely burned molten residue is an emerging environmentally friendly inorganic flame retardant that eliminates smoke and prevents droplets while allowing combustion to stop quickly.
Fengcheng City Heqi Brucite Mining Co., Ltd., is an imports and exports mining company registered in 1998 in Fengcheng City of Liaoning Province. the company is located in Fengcheng City, Primarily engaged in processing minerals. The company property mainly manufactures magnesium hydroxide flame retardant and brucite powder. The export work is handling by DALIAN HEXIN NEW MATERIAL TECHNOLOGY CO., LTD.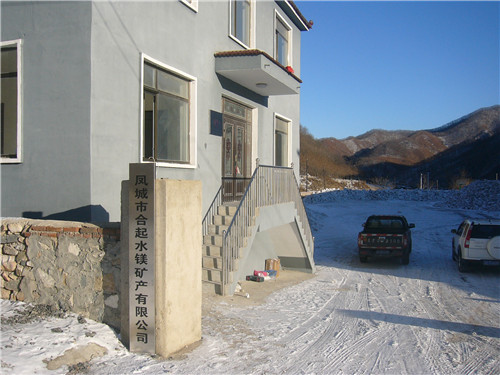 Our annual output amount is up to 100,000 tons. Quality,Integrity, Innovation are our business ideas. Relying on quality products, good services, our company possess good reputation in the line.
"Business Integrity, Standardize Services, Sustainable development, Dedicated to Community" is the company's Principles. During several years developing, the company possesses own mines and processing plants,It consists of the heqi brucite mine in Fengcheng city (reserves 3,000,000 tons, annual output is 100,000 tons).